Alchemist Series Paintings
The Alchemist Series is inspired by early Armenian manuscript illuminations. Each piece is made with 22k gold leaf and handmade paints from stones like azurite, earth, plants, and animals, and is painted on sheep skin parchment. These paintings explore the source and nature of the creative process, in particular, the alchemical idea that actions performed in the physical world have a corresponding reaction in the interior spiritual world of the artist. This is reflected in both the materials and the imagery used.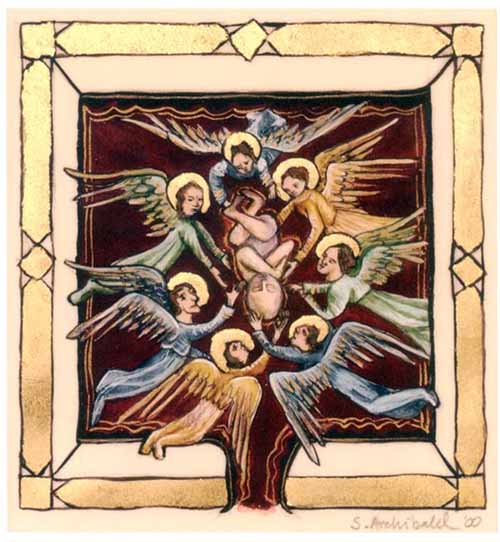 The Binding of Isaac
9.5" x 13", 22k gold leaf & handmade paints on sheep skin parchment
Story below
The Binding of Isaac is story about being in an impossible situation, something that is so difficult we think we can't face it but we must because there is no choice. This is a common human experience. People often struggle with this story because it seems so unjust. However, it is not a question of the justice or injustice of a situation, it is a question of how we face a situation we cannot change or escape. Can we accept the present moment and surrender to what is or will we choose struggle? Once we choose acceptance over struggle, everything shifts.

Spiritual meaning of material used: This piece is painted on sheep skin parchment which represents the ram that Abraham sacrificed. The 22k gold leaf represents the spiritual perfection achieved by Abraham in his act of surrender. The pigments are handmade, for the most part from stones and plants representing the mountain Abraham climbed for his sacrifice. I also used bone black a pigment made from charred bones to represent the ram. The Hebrew lettering around his wrists is the text from the Bible, translation on edge of the box.